10 Restaurant Chains That Serve the Best Fish and Chips – Peanut butter and jelly. Mac and cheese. Burgers and fries. In the pantheon of classic comfort food pairings, there's another duo that deserves top billing: fish and chips. The Mary-Kate and Ashley of fried seafood, it's quintessential pub grub that's become as universally beloved as the finest Americana nostalgia. But not all battered whitefish is made the same.
We've opined on superlative fried fish in chain restaurants, where seafood-centric menus put care and effort into their dishes. Fish and chips, while admittedly not the healthiest option, is the ultimate metric for discerning quality fried fish worth ordering versus those that lack the luster. Commonly made with flaky whitefish, a hearty fillet that can hold up to a deep-fryer and serve as a veritable blank canvas for flavor, this is a humble, straightforward dish that can't hide behind any bells and whistles.
So when you taste a good version, you know it. It's in the gilded batter, none-too-greasy and perfectly crunchy. It's in the fish itself, meaty and robust, primed for a dash of malt vinegar. And of course, it's in the chips—far from sidelined, a reputable restaurant knows that the spuds need to be as crispy, golden-brown, and seasoned as the star of the plate.
These are 10 restaurant chains that serve the best fish and chips in America.
Gordon Ramsay Fish and Chips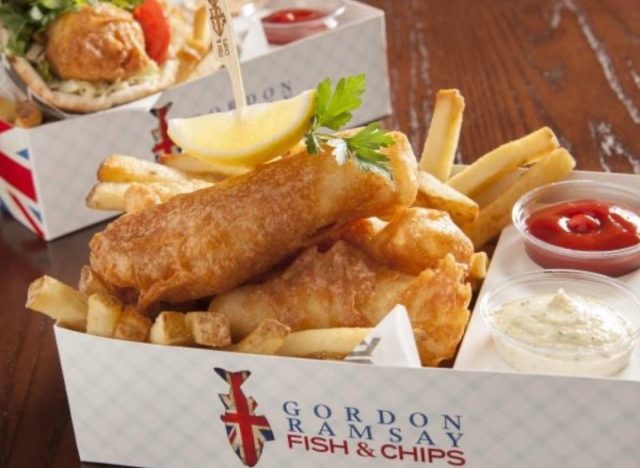 With locations in Orlando, New York City, Las Vegas, and D.C., and one of the most famed chefs in the world at the helm, Gordon Ramsay's namesake fish and chips mini-chain is undoubtedly one of the best destinations for the pairing. Being an iconic British chef, too, Ramsay is well-versed in the art of fried fish — with a penchant for authenticity and craft.
"Gordon Ramsay Fish and Chips serves authentic British fish and chips, made with sustainable cod, and coated with rice flour batter, creating the perfect golden crisp," says Christina Wilson, VP of Culinary for Gordon Ramsay North America. And that diligence doesn't stop at the fish. "Delicious fish is served alongside a variety of 'dirty' chips, with toppings such as truffle, parmesan, and chives, or chipotle, jalapeño and crisp chorizo."
Legal Sea Foods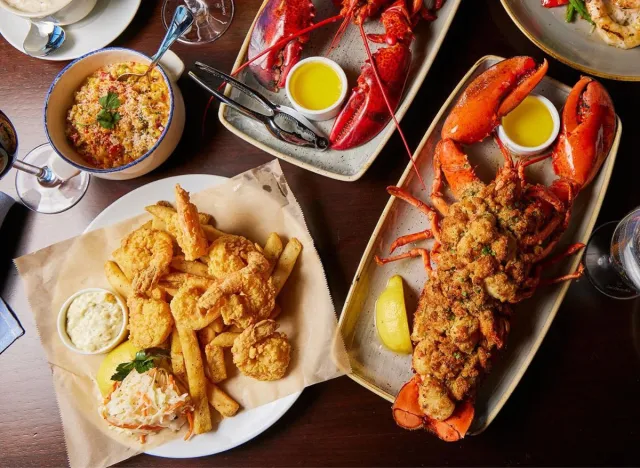 There is a lot to love about Legal Sea Foods. One of the best seafood chains in America, the New England–born company serves some of the most prized chowder, crab cakes, and even steaks. Oh yes, and it has some of the best fried fish in the country. Now boasting locations throughout Massachusetts, New Jersey, Pennsylvania, Rhode Island, and Virginia, the beloved brand has succeeded in its efforts to go the extra mile with everything it serves—including, of course, its fish and chips.
"At Legal Sea Foods we take great pride in our New England heritage and our commitment to serving the freshest, high-quality seafood," explains Matt King, brand president and COO of Legal Sea Foods. "Our dedication to excellence is exemplified in our fish and chips, where we refuse to compromise on taste or quality." King details that Legal Sea Foods sources wild-caught Atlantic pollock locally, ensuring the freshest catch from the waters that surround them. Known for its flavor and delicate texture, he adds that pollock brings an "unparalleled dimension" to the dish.
And since they want to be inclusive of all dietary restrictions, King notes that they keep the chips gluten-free: "We want everyone to indulge in our menu offerings, which is why our famous fry mix is gluten-free, ensuring that the crispy fried chips can be enjoyed without compromise."
Bonefish Grill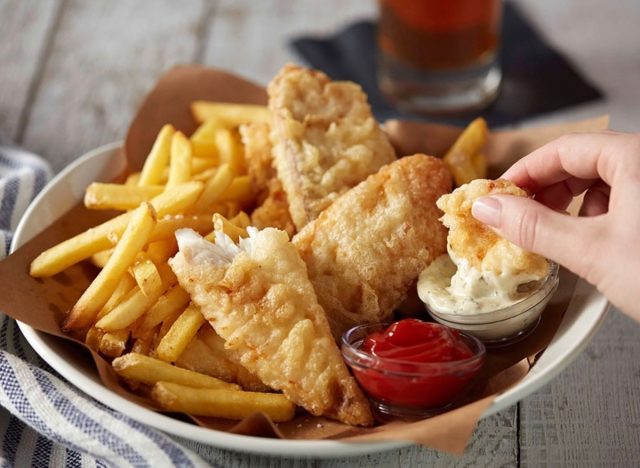 A chain esteemed for its combo meals, it's no wonder that Bonefish Grill knows how to perfect a plate of fish and chips. One of the best chains for fresh seafood in general, the Florida-born brand—which now has upwards of 200 locations across the country—serves fish and chips so good that they took first place in our own chain restaurant taste test. Made with crispy fried cod and served with tartar sauce, malt vinegar, and crispy chips, it earns points for its generous portion size, clear and tasty seasoning, and crisp coating on thick, perfectly cooked fillets.
Brown Bag Seafood Co.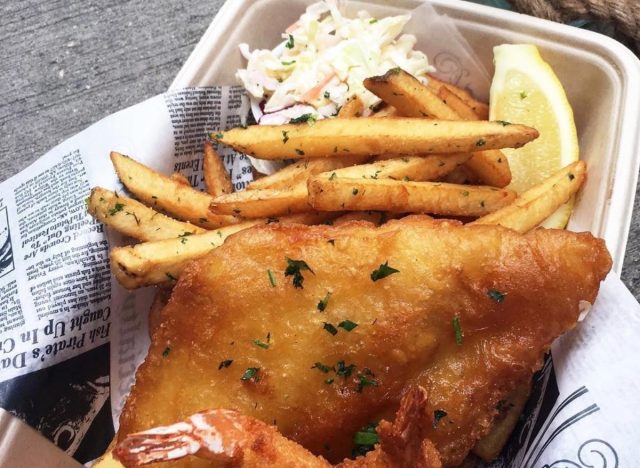 You might not expect a chain from Chicago to serve top-tier seafood, especially in a fast-casual format, but Brown Bag Seafood Co. is the kind of place that defies expectations. Now with nearly 20 locations in states like Georgia and North Carolina, the on-the-rise company has quickly established itself as one of the foremost seafood chains for high-quality fish, earning praise from the likes of The Atlanta Journal-Constitution. 
That's thanks to its commitment to sourcing and freshness. Using sustainably sourced seafood, like cod for the fish and chips, the company explains that "you shouldn't need a white tablecloth to get fresh, delicious seafood," instead opting for seafood that's prepared fast and served hot. "We're here to bring seafood to the masses—with a dash of creativity, a whole lot of love, a squeeze of lemon, and not an ounce of pretentiousness." For fish and chips, that means hot 'n crispy cod served over golden-brown french fries with classic slaw and tartare sauce.
Flix Brewhouse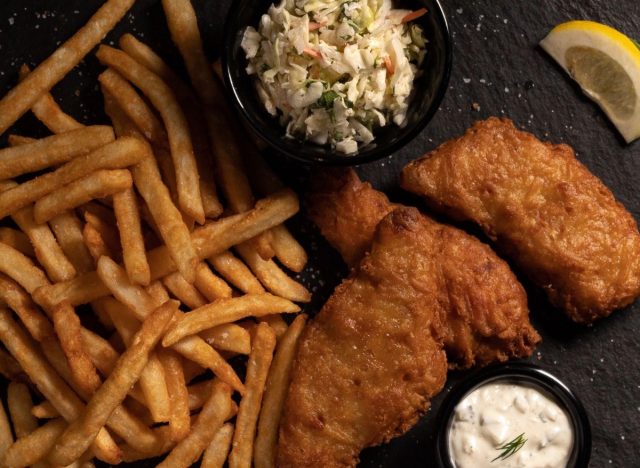 A movie theater chain serves some of the best fish and chips in America. After you let that sink in, book tickets to see a movie at Flix Brewhouse, and bring your appetite, because the Austin-based company is as dedicated to the culinary arts as it is the cinematic arts. Now with nearly a dozen locations, in states like Oklahoma, Wisconsin, and New Mexico, Flix sets itself apart as a movie theater that's also a brewery, making its own beer and pairing it with an above-and-beyond food menu that guests can order right from their seat. Among the entree highlights is fish and chips, made with beer-battered Alaskan cod that's just as crispy as the fries, and paired with tartar sauce and zesty slaw. In many cases, it's the type of food that earns better reviews than the movies themselves.
One Yelp page boasts a slew of raves, with one customer claiming "Food was WORTH IT," another stating "This is how a movie dining experience should be," and another—discussing the fish and chips—saying "I was pleasantly surprised that both entrees tasted way better than I expected." Flix even earned a solid review from the food critic for The Oklahoman, who said "The food is not only good, but made for dining quietly in the dark."
Bubba Gump Shrimp Co.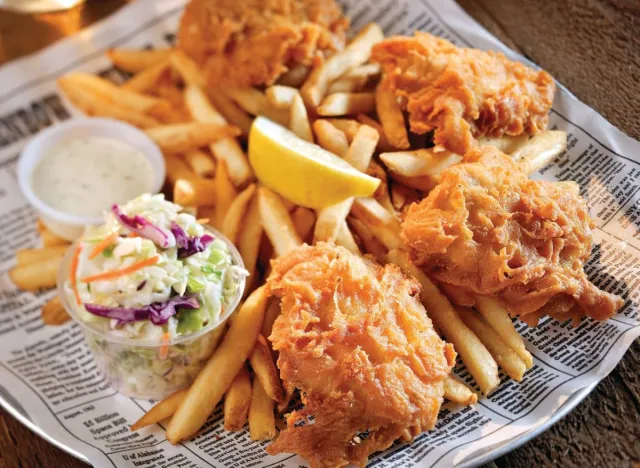 Don't let the name fool you. Shrimp may take top billing at Bubba Gump Shrimp Co., but as this chain proves, there are plenty of fish in the sea. Founded in California, and now with more than 30 locations worldwide, the company features everything from calamari and clam chowder to flame-grilled salmon and crab boils. And of course, there's a standup version of fish and chips, too. Dubbed "Captain's Fish & Chips," it's served with traditional accompaniments of fries, coleslaw, and tartar sauce.
And as this dish exemplifies, sometimes a straightforward classic—when done well—is what works. As one TripAdvisor user posted, Bubba Gump serves some of the "finest fish and chips," and another user calling it "the best fish and chips no one knows about it," made with a beer batter and doled out in generous portions.
Applebee's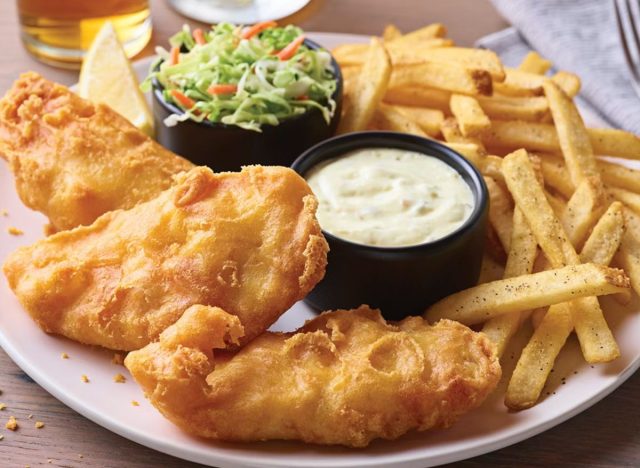 Applebee's may be in the midst of some closures, but don't blame it on the fish and chips. In fact, the hand-battered fish is one of the sleeper hits on the menu, earning a solid review in our own crispy taste test. Not only does the fish look perfectly fried and golden-brown, the crunchy crust gives way to flaky and tender whitefish fillets that pair perfectly with a spritz of fresh lemon and a dunk in tartar sauce.
On a texture and color level, it's perfect, which is noteworthy for those of us who eat with our eyes — or our Instagram — first. Although seasoning can be a bit hit or miss, it's worth mentioning a chain that serves fish and chips this visually striking and shatteringly crispy.
Red Robin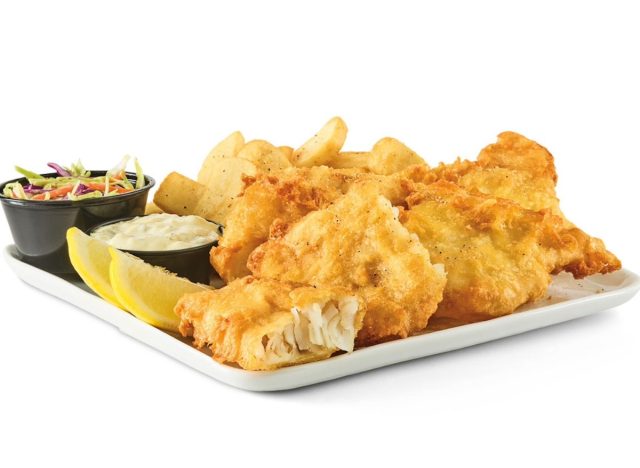 Red Robin may be mostly known for its burgers, but its fish and chips are one of the most underrated menu items of any chain restaurant. That's because the company pours as much effort and detail into its seafood as it does its burgers. And in the case of its fish and chips, that means battered cod, fried to a pitch-perfect golden crisp, served with a bottomless portion of steak fries and Dill'd and Pickl'd Tartar Sauce, whose acidity and herbal notes are an ideal match for the deep-fried platter.
Speaking to its underrated clout, one Reddit user recently claimed "Red Robin's Arctic Cod Fish and Chips are actually really good," and another claiming they only order the fish and chips there: "Believe it or not it has been pretty good most times."
Texas Roadhouse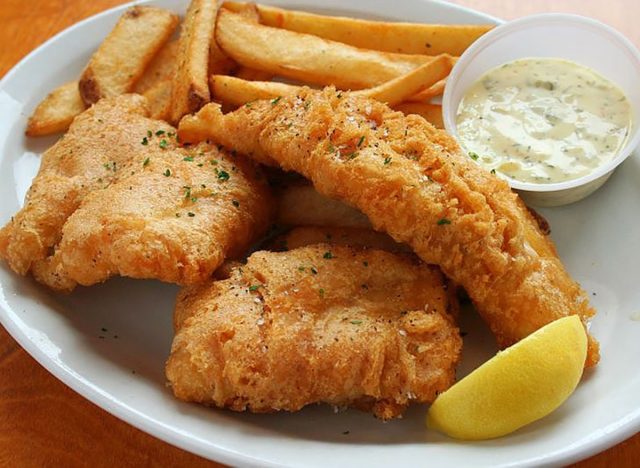 Texas Roadhouse is, first and foremost, a steakhouse. But this fast-growing brand didn't become America's most beloved sit-down chain for steak alone. Much more of a menu-wide team effort, everything works on all cylinders to ensure customer loyalty and fanfare, and that includes an equal emphasis on quality fish and seafood. Depending on location, that includes a perfectly cooked rendition of a classic fried whitefish dish with chips.
Or, in other locations, you can put a Southern spin on the British tradition by ordering fried catfish, served with fluffy steak fries, that's beloved by customers. Made with U.S. farm-raised catfish that's breaded in Southern cornmeal, one Reddit user says the "Texas Roadhouse catfish is really good!," and another adds, "I don't like thick breading, so feel the catfish at Texas Roadhouse is amazing."
Red Lobster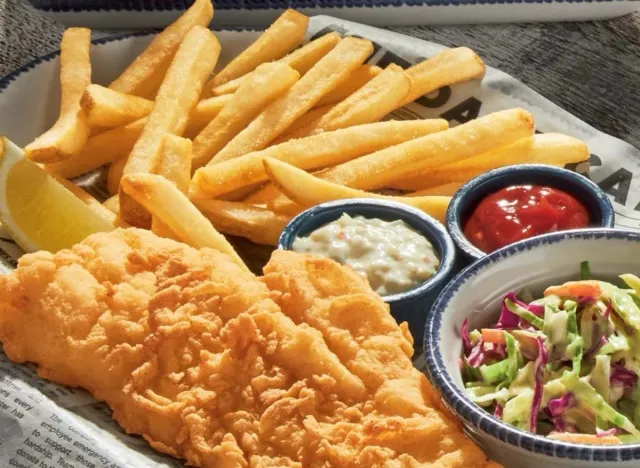 Turns out, lobster and Cheddar Bay Biscuits aren't the only things that Red Lobster does well. Made with a super-sized hand-battered wild-caught cod fillet, fried until golden and flaky, it's served with coleslaw, tartar sauce, and crispy fries — earning praise from customers on its appearance and taste.
In fact, one of the only complaints Reddit users have is that they want a larger portion. According to one user, it "Looks ludicrously tasty but that fish portion is shockingly small," and even a British person chimed in to give their stamp of approval: "As a Brit, I can confirm that that's a pretty decent looking plate."
Don't miss: 12 Best Costco Soups to Warm Your Bones All Winter