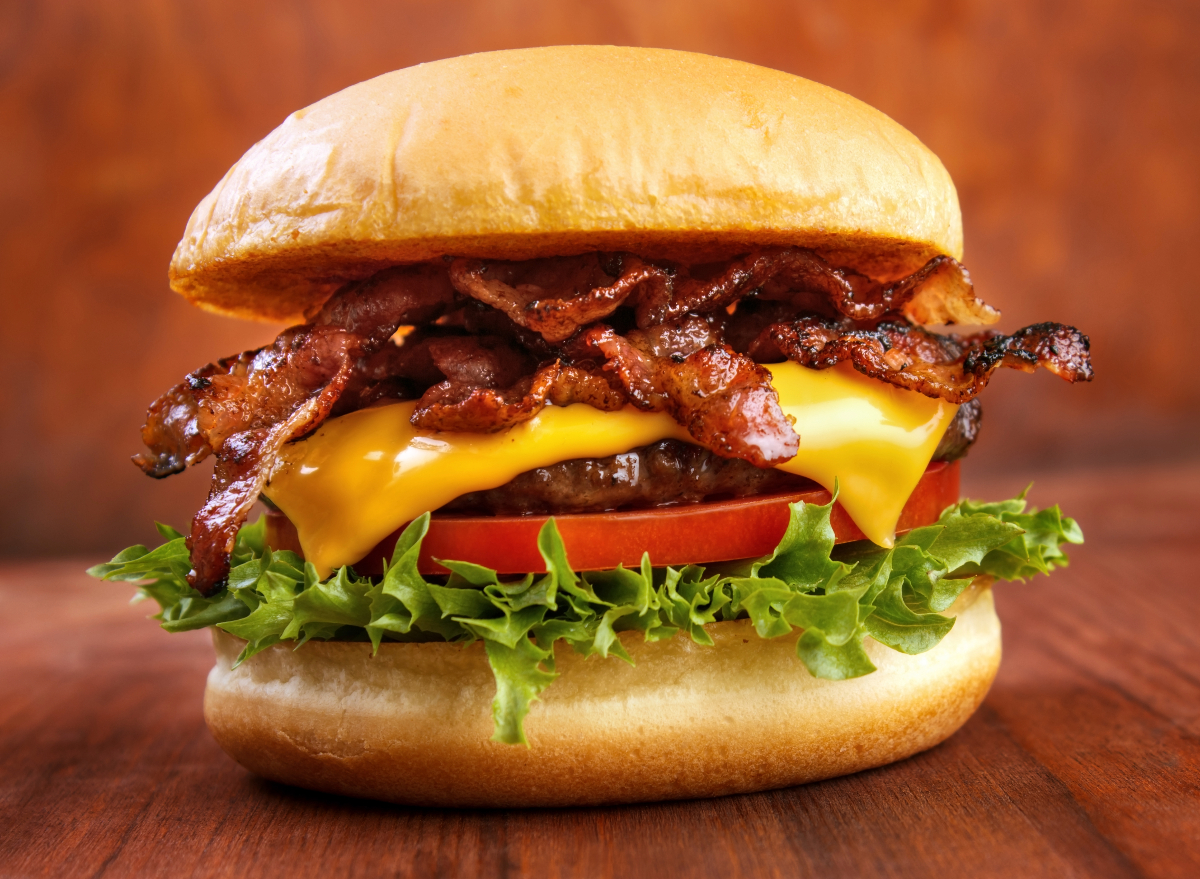 11 Delicious Burgers You Can Only Order Off 'Secret Menus' – The product recommendations in this post are recommendations by the writer and/or expert(s) interviewed and do not contain affiliate links. Meaning: If you use these links to buy something, we will not earn a commission.
Is there an item more synonymous with fast food than a burger? Since America's first fast-food chain, White Castle, opened in 1921, fast-food burgers have taken over the country, with chains commonly associated with their version of the menu staple.
McDonald's has the Big Mac. Burger King serves Whoppers. Head to the West Coast, and you can sink your teeth into a Double-Double at In-N-Out. Simple yet classic, these iconic burger options are beloved by so many people for a reason. Nevertheless, it can still be exciting to opt for something more creative—and perhaps not even on the menu.
That's right. Your fast-food order isn't always limited to the advertised food offerings. These customizations, also known as "secret menu items," are made with ingredients already available at the chains and are often twists on the standardized menu options. Other times, they're completely new orders. For some additional fast-food inspiration, here are 10 delicious burgers that can only be found on secret menus.
1. In-N-Out's Animal-Style Burger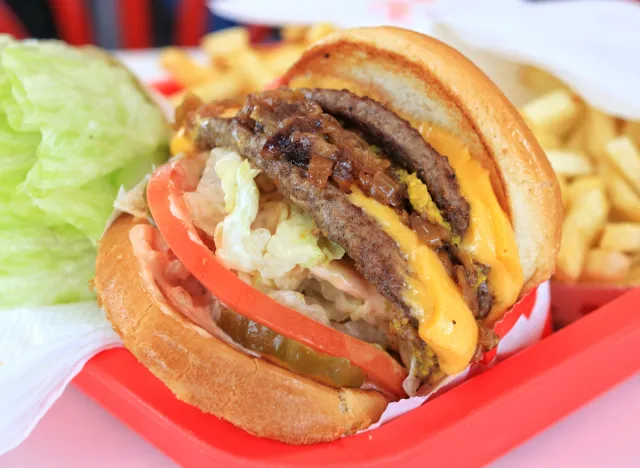 Whether this item is actually a secret is debatable. In-N-Out advertises its secret menu, dubbed the "Not So Secret Menu," on its website. Regardless of the menu's level of secrecy, the Animal-Style Burger has gained immense popularity over the years. This menu item consists of your desired number of mustard-cooked beef patties topped with lettuce, tomato, pickles, extra spread, and grilled onions.
2. In-N-Out's 3×3 Burger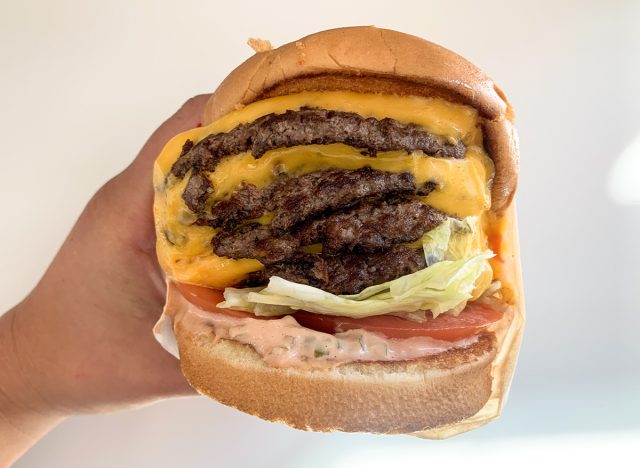 If you're feeling extra hungry, the 3×3 Burger is sure to satisfy your appetite. As its name suggests, this burger features three times the ingredients found on a typical burger. Sandwiched between two buns are three beef patties, three slices of American cheese, lettuce, tomato, and spread, with or without onions. Similarly, the Not So Secret Menu's 4×4 Burger (pictured above) comes with four beef patties and four slices of cheese.
3. Shake Shack's Quad Burger
You don't have to be on the West Coast to score a four-patty burger, though. If you find yourself near a Shake Shack, the fast-casual burger chain can make you its own iteration of the meaty menu item, which is aptly named the "Quad Burger." Available as a customization option for any burger, this secret order is made with four beef patties. To elevate this menu item further, you can order a SmokeShack Quad Burger, which is a Quad Burger topped with smoked bacon.
4. Shake Shack's Shack-Cago Burger
Showcasing the ingredients found on Shake Shack's Chicago-style hot dog—also known as the "Shack-Cago Dog"—the Shack-Cago Burger is topped with Rick's Picks relish, onions, pickles, tomatoes, sport peppers, celery salt, and mustard.
If you can't get this secret menu item made for you, you can still build it yourself by ordering a Shack Burger and Shack-Cago Dog. Along with your Shack-Cago Burger, you'll be left with an extra hot dog on the side.
5. Five Guys Double Grilled Cheeseburger
Can't decide between a burger or grilled cheese? At Five Guys, customers can cure their indecisiveness by merging the two comfort foods together. The chain's Double Grilled Cheeseburger takes a beef patty and burger toppings and sandwiches them between two grilled cheeses
6. Five Guys Patty Melt
Similar to the Double Grilled Cheeseburger, Five Guys' Patty Melt combines elements from a burger and grilled cheese. To order this one, just ask for a grilled cheese with your desired number of beef patties and choice of burger toppings.
7. McDonald's Big McChicken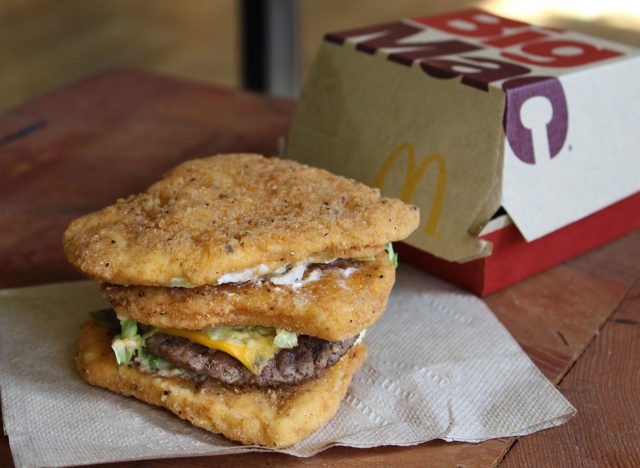 Resembling KFC's famous Double Down sandwich, which substitutes sandwich buns with fried chicken, the Big McChicken does the same. To get your hands on this hefty sandwich, you can order a Big Mac or McDouble and three McChickens. Then, replace the buns with the McChicken patties to create a meat-packed mashup burger.
8. McDonald's Land, Air, and Sea Burger
Speaking of mashup burgers, the McDonald's Land, Air, and Sea Burger combines three different menu items, each one made with a different protein: beef, chicken, and fish. To assemble this monstrous menu item, you can ask for a Big Mac or McDouble, a McChicken, and a Filet-o-Fish. And don't forget to bring a hearty appetite—and some napkins, since it can get messy!
9. Wendy's Barnyard Burger
As one might expect, the Barnyard Burger draws inspiration from multiple animals that can be found on a farm, specifically cows, pigs, and chickens. This menu item consists of bacon, a beef patty, and a spicy chicken filet, along with cheese, lettuce, and tomatoes. One way you can order this menu item is by asking for the Asiago Ranch Chicken Club, which already has bacon on it, and replacing the chicken with a beef patty.
10. Wendy's Asiago Beef Burger
At Wendy's, snagging this menu item just requires one simple swap. Instead of ordering the Asiago Ranch Club (pictured above), which is available in classic or spicy, you just need to ask for a beef patty instead of the chicken breast. The rest of this burger will include applewood smoked bacon, Asiago cheese, creamy ranch sauce, lettuce, and tomato on a toasted bun.
11. Burger King BLT Burger
This one's so easy, it's hard to believe it's even considered a "secret" menu item. The Burger King BLT is just a Whopper with bacon on it. Does it get more simple than that?
Kindly read more from the website homepage