6 Dietitian-Approved Recipes for 'Girl Dinners' – Snack plates have officially been rebranded as "girl dinner," and people everywhere are hopping on this trend and sharing their creations. Girl dinners are a no-prep, snack-plate style meal that is taking TikTok by storm, and this is one viral food trend that registered dietitians can get behind.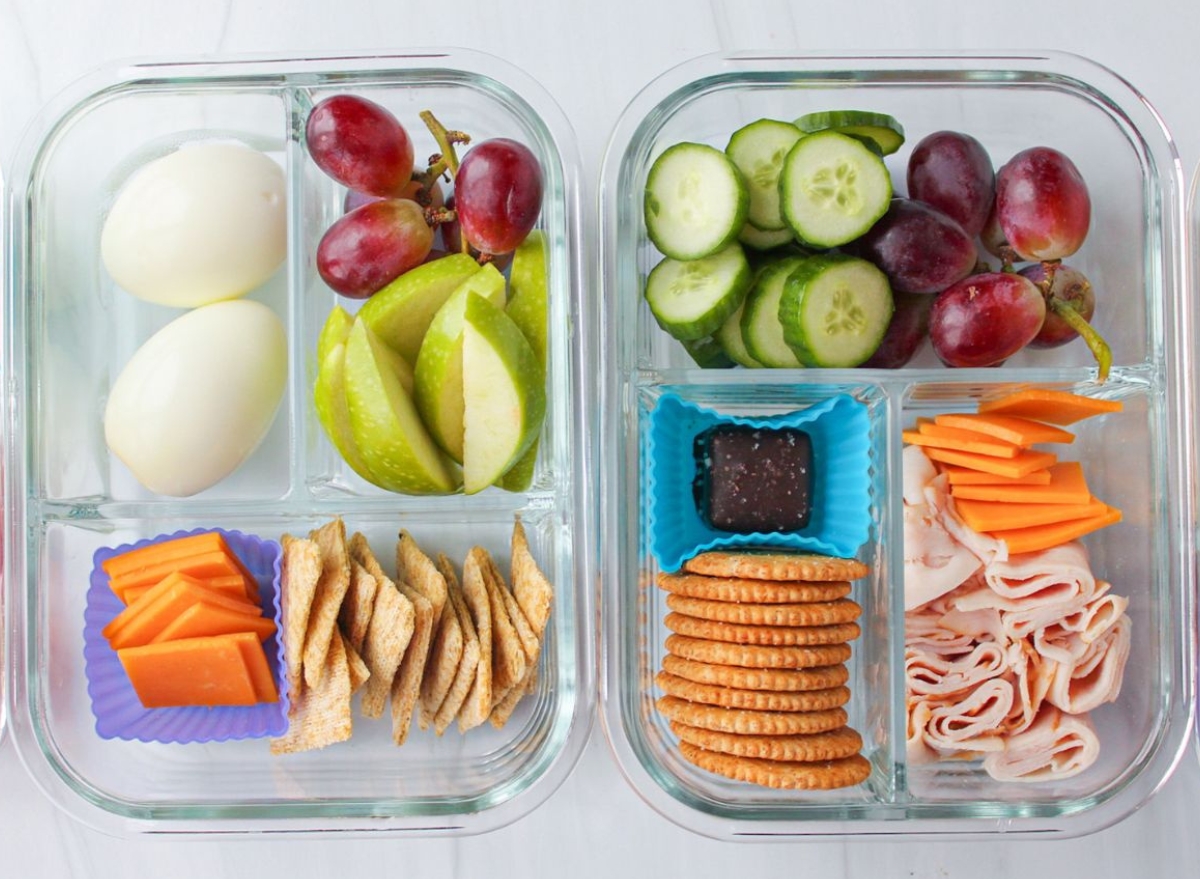 "This has to be my favorite diet trend to ever grace the internet because it gives people permission to make nourishment easy," says Miranda Galati, MHSc, RD, registered dietitian and founder of Real Life Nutritionist.
"Girl dinner is about doing what you can to keep yourself fed, even if that means throwing a random assortment of foods on a plate. The spirit of the trend is ease and permission. Girl dinner lets us embrace our lazy moments and make food choices that support that. And as a balanced dietitian who believes in sustainable diets over unrealistic trends, I'm in full support," she adds.
Don't miss: 5 Best Drinks You Can Score at Trader Joe's Right Now
Are girl dinners healthy?
Comprised of small bites and minimal prep, girl dinners have people wondering—Are they actually good for you?
"From a nutrition perspective, this trend is awesome because it can be as nutrient-dense or not-so-nutrient-dense as you want it to be," Galati explains.
"Women face a lot of pressure to adopt the 'perfect' diet and make everything from scratch. Girl dinner is about everything but perfection. The easier girl dinner is, the better. And if you want to add some filling nutrition to your plate too, you'll only benefit," she adds.
How to build a balanced girl dinner
"Snack plates are a really great way to build a balanced meal that's nutritious, satisfying, and fun! Especially if you're someone who likes 'snacky' food like cheese and crackers or charcuterie boards, it can be a really fun way to mix things up," says Jamie Nadeau, RD.
"But, there are some important things to consider when you're building a snack plate, especially if you're eating it as a full meal," she explains.
Here are some tips to follow when crafting your own girl dinner to make sure it's as healthy and well-balanced as it can be.
Make sure to have protein, fiber, carb, and volume: "[Your girl dinner] needs to have enough protein, enough fiber, a carb source, and enough volume to feel full and satisfying. A few crackers with some grapes is probably not going to cut it—it needs to have all of the same components that a regular meal would have. Otherwise, you're going to be left hungry, unsatisfied, and searching for more food," says Nadeau.
Focus on fiber-rich sources of carbs: A balanced meal isn't complete without carbohydrates, and choosing high-fiber ones can stretch your energy levels longer after eating. Fruit, crackers, and yogurt can all be great additions here.
Prioritize protein: In order to feel full and satisfied, protein is a must even when you're looking for a low stress way to make dinner. Focus on easy-adds like cheese, nuts, and deli meat to round out your plate.
Add fruits and vegetables: Adding fruits and vegetables to your girl dinner is a great way to increase the volume of your meals, add nutrients, and incorporate more fiber for fullness.
Mix and match: "My favorite girl dinner is what I like to call the mix-and-match. Pair an assortment of protein-and fiber-rich foods with a few fun ones just for taste. And of course, everything on your plate should take no longer than three minutes to prepare," shares Galati. "Mix-and-match girl dinner might look like a few slices of cheese, a bowl of edamame with chili oil, a big handful of baby carrots and cherry tomatoes, your favorite chips, and maybe a few chocolate peanut butter cups, too."
Embrace simplicity, and don't overthink it! "The ideal girl dinner combines nutrition with satisfaction in the absolute easiest way possible," Galati adds.
Dietitian-Approved 'Girl Dinner' Ideas
Keep reading to learn exactly which girl dinner recipes these dietitians approve of, so you can make your own special snack plate tonight.
1. Charcuterie Girl Dinner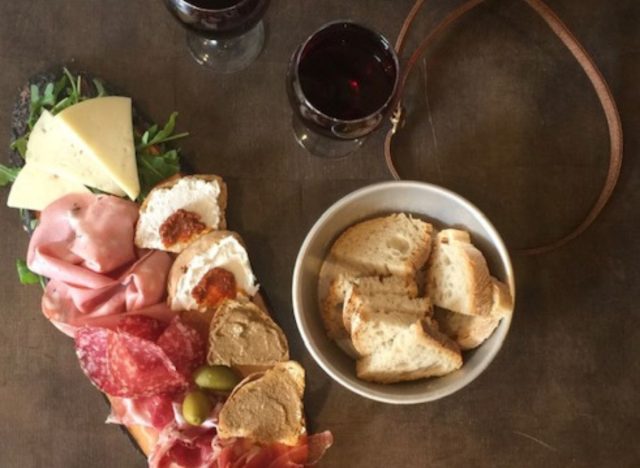 Girl dinners don't have to be a small, sad assortment of foods. They can be nourishing, convenient, and fun! I like to call these a "meal of snacks" with clients. Try to include sources of protein, fat, fiber, and produce, and you can make a meal out of just about anything.
Charcuterie is famously known for being a beautiful meat and cheese board that feeds a crowd, but we think you can make it work in single-serving style, too. Chelsea Jackle, MFN, RDN LD shares her favorite dietitian-approved recipe with us.
Charcuterie Girl Dinner recipe:
Raw veggies
Hummus
Cheese
Crackers
Grapes
Nuts
Deli meat
Pepperoni
2. Mediterranean Plate
For a heart-healthy girl dinner, you may want to explore the Mediterranean cuisine.
Marissa Meshulam, MS, RD, CDN loves incorporating Mediterranean girl dinners with these flavors: "I love using these Applegate Chicken Strips because they are humanely raised with non GMO ingredients," says Meshulam. "This creates a perfectly balanced plate with protein from the chicken, fiber from the artichokes and tomatoes, fat from the olives and hummus and some carbohydrates from the pita chips.
Mediterranean Girl Dinner recipe:
Chicken strips
Marinated artichokes
Kalamata olives
Sundried tomato hummus
Pita chips
Sliced tomatoes
3. Adult Lunchable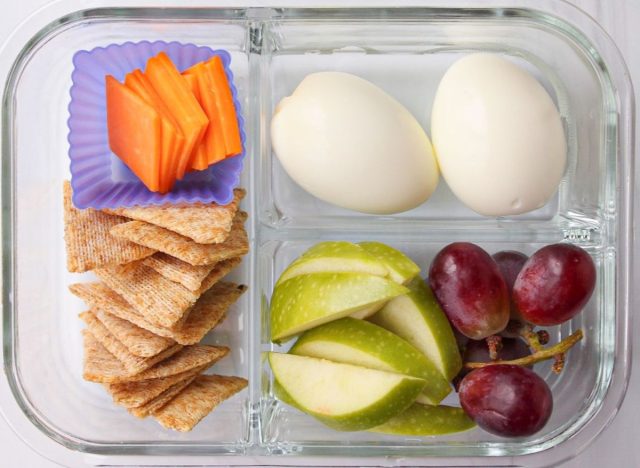 "The viral 'girl dinner,' also commonly referred to as a snack plate, is an awesome option for a quick and easy lunch or dinner! They can be a great opportunity to make a minimal prep balanced meal," says Nicole Addison, RD, MHSc.
Pairing protein for fullness, carbs for quick energy, and plenty of color for added volume makes this a balanced girl dinner in our book!
Adult Lunchable recipe:
Boiled eggs
Crackers
Cheese
Sliced apple
Cucumbers
4. Vegan Girl Dinner
"I think the beauty of this snack plate dinner is that it's easy to put together and is super casual. Hummus or bean dip with raw veggies, olives, whole grain pita wedges, nuts, and grapes make for an easy plant-based meal. It leaves one with a sense of freedom after not having to cook or wash pots and pans, and allows you to keep the evening casual, light, and free for other activities," adds Melissa Altman-Traub MS, RDN, LDN.
Vegan Girl Dinner recipe:
Raw veggies like cucumber, carrots, celery, and radishes
Hummus
Olives
Whole grain pita wedges
Nuts
Grapes
5. Deconstructed Sandwich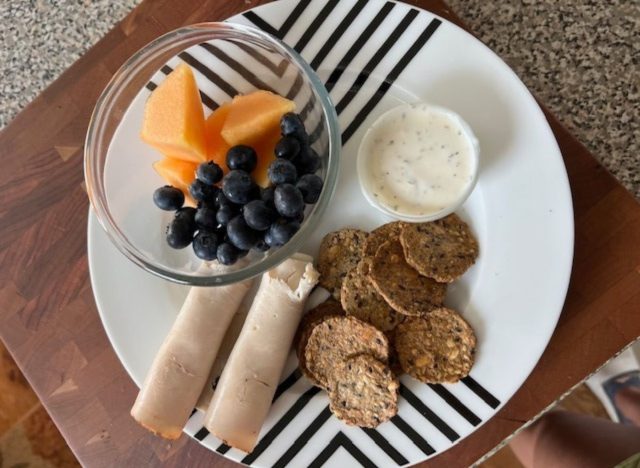 A deconstructed sandwich plate is full of all the beloved ingredients from your favorite sandwich, with even less effort! Meshulam says she loves to use Applegate Organic Herb Turkey Breast, Whisps Cheddar Cheese Crisps, sourdough bread sliced into pieces, sliced pickles, sliced tomatoes, mustard, and olive oil for dipping.
"This creates the perfect balance of protein from the turkey and Whisps, fat from cheese and olive oil, and flavor from the mustard and pickles," she adds.
Deconstructed Sandwich recipe:
Deli turkey
Sourdough bread
Cheese
Pickle
Tomatoes
6. The Sweet-Savory Plate
New Jersey-based dietitian Erin Palinski-Wade, RD, CDCES shares her favorite girl dinner with us, sweet and savory style: Pair prunes, walnuts, fresh mozzarella, sliced tomato, and air-popped popcorn for a snack plate that provides protein, fat, and fiber, while satisfying your sweet and salty cravings.
"Prunes are a delicious no-sugar-added dried fruit that provide a good source of fiber to help regulate appetite and promote gut health. Walnuts provide a good source of plant-based protein and fiber along with heart-healthy omega-3 fatty acids to promote balanced blood sugar and appetite," says Palinski-Wade. "The addition of tomato and mozzarella provides a boost of antioxidants, including lutein, as well as a source of protein and calcium. Rounding out the plate for taste and texture, air-popped popcorn provides bulk and fiber for slow-digested carbohydrates that satisfy your need for a crunch."
Sweet-Savory Girl Dinner recipe:
Prunes
Walnuts
Mozzarella
Tomato
Popcorn