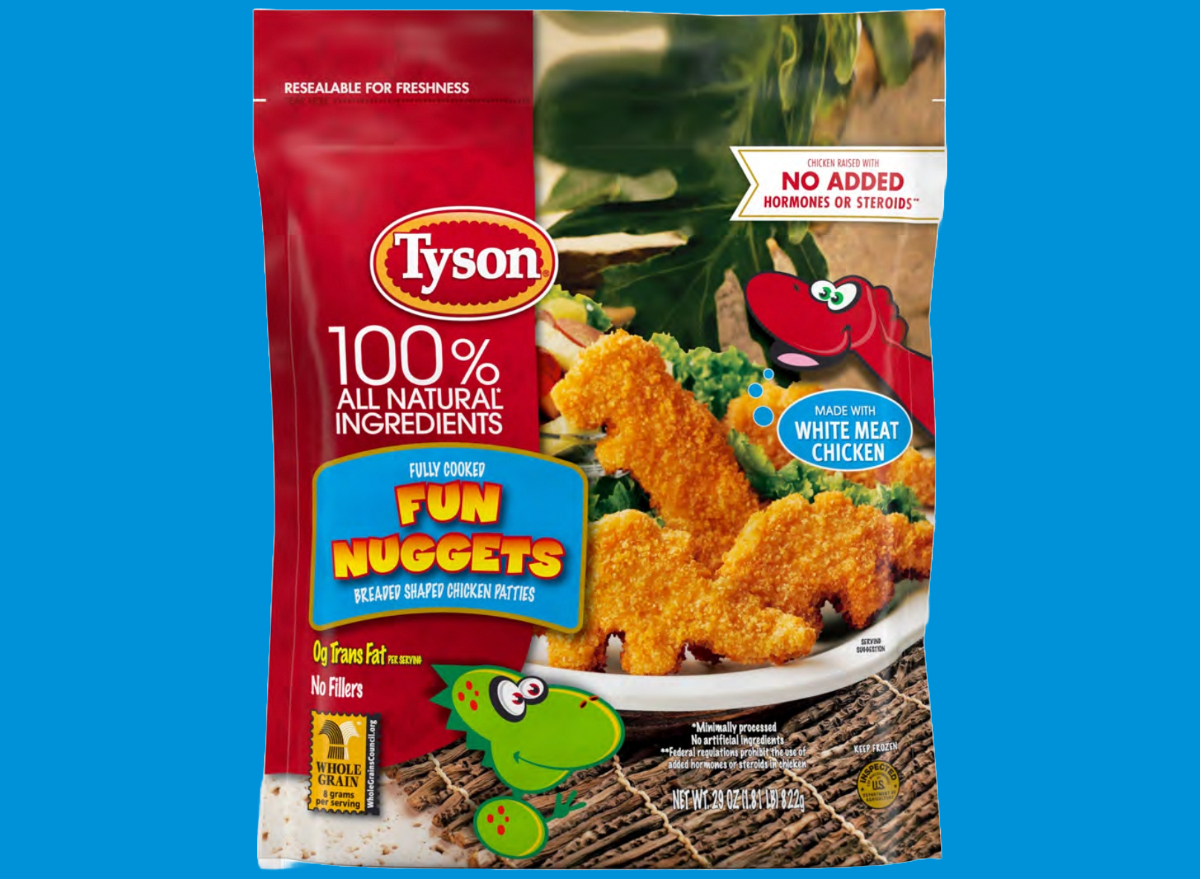 Major Recall Just Announced For Tyson Chicken Nuggets – Major Recall Just Announced For Tyson Chicken Nuggets – If you recently purchased Tyson dino chicken nuggets, you're going to want to read this before you eat them. On Saturday, the USDA's Food Safety and Inspection Service (FSIS) announced that Tyson Foods is recalling nearly 30,000 pounds of frozen dinosaur-shaped chicken nuggets because they may be contaminated with small metal pieces.
The recall applies to approximately 29,819 pounds of Tyson's Fully Cooked Fun Nuggets Breaded Shaped Chicken Patties, which are packaged in 29-ounce plastic bags. The nuggets were produced on Sept. 5, 2023, and shipped to retailers in Alabama, California, Illinois, Kentucky, Michigan, Ohio, Tennessee, Virginia, and Wisconsin.
These recalled items have a "best if used by" date of Sept. 4, 2024, and display the establishment number "P-7211" on the back of the package. Affected bags include the following lot codes: 2483BRV0207, 2483BRV0208, 2483BRV0209, and 2483BRV0210. No other Tyson products are affected by this recall, according to a company news release.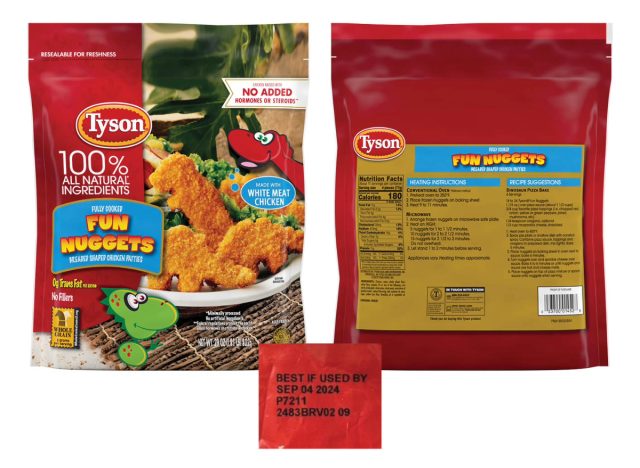 Tyson alerted the FSIS of this problem after receiving consumer complaints about small metal pieces being in the chicken product. There has been one reported minor oral injury connected to the consumption of the nuggets. No other injuries or illnesses have been reported.
The FSIS is concerned about the frozen nuggets still being in consumers' freezers. The agency urges consumers not to eat this product and throw it away or return it to its place of purchase. Customers with additional questions about this recall can contact Tyson Consumer Relations at (855) 382-3101.
The recall of Tyson's Fun Nuggets comes just two days after Fairmont Foods, Inc. recalled Kidfresh's frozen spaghetti loops with meat sauce because the product was found to contain undeclared egg—a major food allergen. According to an announcement from the FSIS, one person with an egg allergy reported an adverse reaction after consuming this frozen item.
In 2022, Tyson recalled 93,697 pounds of ground beef products because the items may have been contaminated with "extraneous materials, specifically reflective mirror-like material." The FSIS noted that there were no confirmed reports of adverse reactions associated with the consumption of the products.