The 8 Healthiest Fast-Food Smoothies To Order Right Now – Smoothies are a great way to pack a lot of nutritional perks into one tasty drink. Of course, when you make one for yourself, you know exactly what's going in it and what it offers your body. On the other hand, when you pick up a quick smoothie from a fast food chain, you risk consuming some questionable—or downright unhealthy—ingredients. That's why it's important to choose just the right thing in order to make sure that you end up with a healthy smoothie.
"Anything that is sweet in a liquid form will hit our bloodstream very quickly, [so] to help keep those blood sugars steady it is best to choose a smoothie that is low in sugar and has healthy fat, fiber, and protein since these 3 nutrients help to slow down digestion and keep blood sugars steady (no dips or spikes)," Anar Allidina, MPH, RD, CDE, tells Eat This, Not That!, when it comes to what makes a fast-food smoothie an ideal option. She explains that "stable blood sugars keep us full for longer and keep energy and mood balanced and cravings in check."
Allidina also says that you should "try to choose a smoothie that gives you at least 5 grams of fiber, 8 grams of protein, and 20 grams or less of sugar."
Although not all fast food options get things totally right, here are either of the healthiest quick and easy smoothies to pick up when you need a boost.
Jamba Juice Vanilla Blue Sky Smoothie
Per 1 small-sized cup: 200 calories, 4.5 g fat (2.5 g saturated fat), 90 mg sodium, 43 g carbs (5 g fiber, 27 g sugar), 2 g protein
The Jamba Juice Vanilla Blue Sky Smoothie uses unsweetened almond milk, vanilla coconut milk, bananas, and pineapples to achieve its fabulous flavor. However, it's the blue spirulina that gives it a stunning color. If spirulina is new to you, you should be aware of the fact that it's a form of nutrient-packed algae that boasts a high amount of vitamin B12, according to the Journal of Agricultural and Food Chemistry. It also "has [a] very high content of macro and micronutrients, essential amino acids, proteins, lipids, vitamins, minerals, and antioxidants," per Trends in Food Science & Technology.
Panera Bread Strawberry Banana Smoothie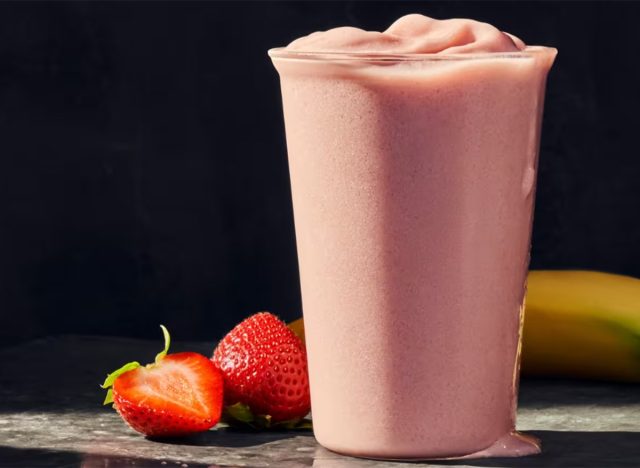 250 calories, 3 g fat (1.5 g saturated fat), 35 mg sodium, 52 g carbs (4 g fiber, 38 g sugar), 8 g protein
When you think of Panera, smoothies might not be the first thing that comes to mind but maybe that should change. That's because you really need to give their Strawberry Banana Smoothie a try. Offering what the name suggests, a banana is blended with fruit purees and juice concentrates along with ice and Greek yogurt which is another treat that's both nutritious and delicious. Along with having a high protein content, Greek yogurt contains nutrients that will benefit your muscles, according to an April 2019 study that appeared in Frontiers in Nutrition.
Smoothie King Slim-N-Trim Strawberry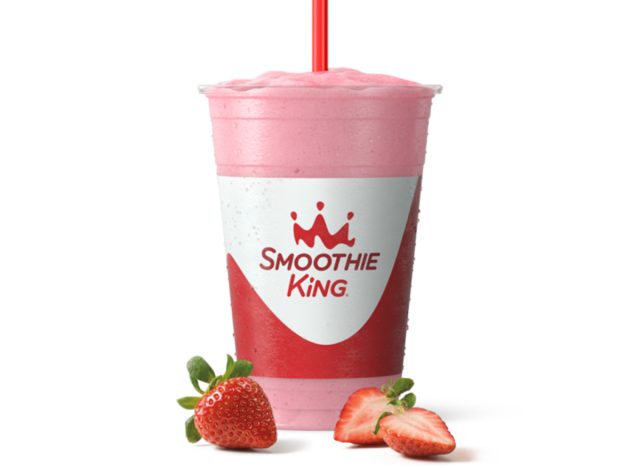 Per 20 oz cup: 160 calories, 2.5 g fat (1 g saturated fat), 350 mg sodium, 28 g carbs (6 g fiber, 13 g sugar), 13 g protein
"This is a great choice, per serving you are getting in 6 grams of fiber, 13 grams of protein, and 13 grams of sugar," says Allidina. Beyond that, Smoothie King suggests adding Keto Protein (collagen peptides, medium-chain triglycerides, whey protein isolate, whey protein concentrate, and other ingredients) or Diet Down (green tea extract, L-carnitine, and more) to the drink. As for our dietary expert, she continues by saying, "This would be a great snack to have midday if you are looking for something sweet. The combination of 13 grams of protein and 6 grams of fiber will keep you full and satiated."
Booster Juice Tropi-Kale Smoothie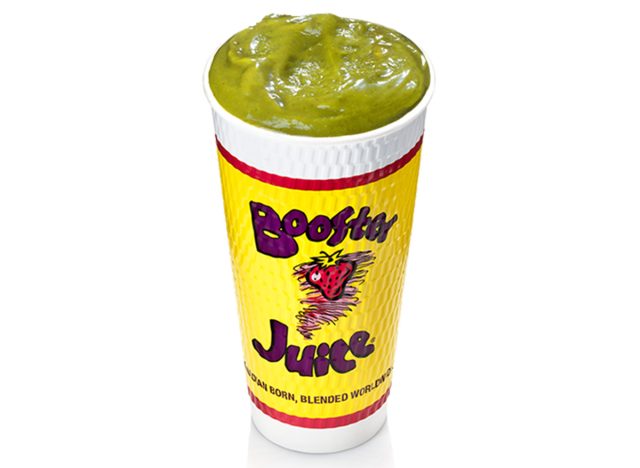 Per snack size: 140 calories, 0.5 g fat (0.1 g saturated fat), 15 mg sodium, 34 g carbs (5 g fiber, 25 g sugar), 2 g protein
"Love the 5 grams of fiber here but it doesn't provide much in terms of protein or healthy fat," says Allidina while discussing the Booster Juice Tropi-Kale Smoothie. On top of that, Allidina says that the "sugar is a bit on the high end," however, that doesn't rule this option out. Instead, she simply notes that in order "to make this smoothie more filling, try adding some hemp seeds or protein powder to boost the protein."
Pita Pit Mango Tango Smoothie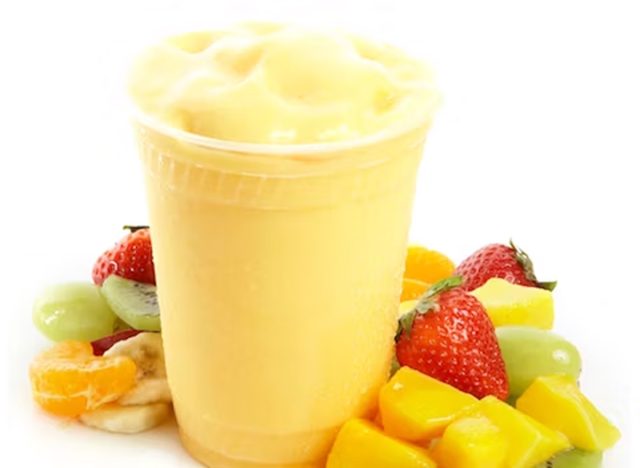 Per small size or 20 oz: 220 calories, 0 g fat (0 g saturated fat), 65 mg sodium, 52 g carbs (3 g fiber, 34 g sugar), 2 g protein
Pita Pit Mango Tango Smoothie delivers on what it promises with chunks of mango—which was deemed to be "The King of Fruits" by a February 2007 study published by Food Reviews International—that are blended with bananas, green grapes, kiwi, and strawberries. With such a fruit-filled punch, you'll be sure to get a fair share of vitamins and other nutrients in this smoothie.
Juice Generation Mr. Greengenes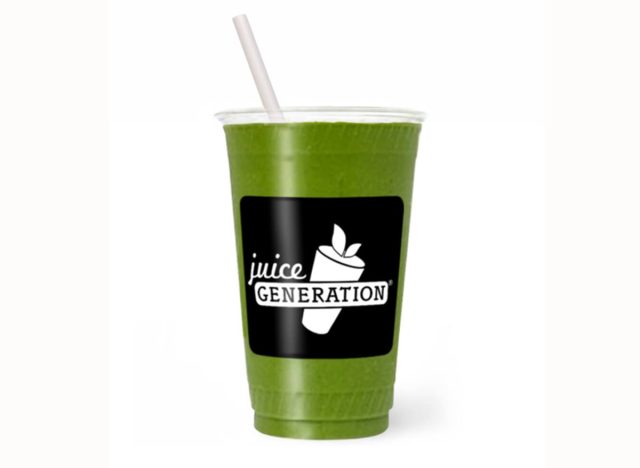 Per 20 oz serving: 200 calories, 5 g fat (0 g saturated fat), 249 mg sodium, 36 g carbs (9 g fiber, 20 g sugar), 8 g protein
"While this smoothie does give you 20 grams of sugar it also provides you with 5 grams of healthy fat, 9 grams of fiber, and 8 grams of protein," Allidina says of the Juice Generation Mr. Greengenes. That's thanks to the plant milk, banana, mango, spinach, and kale combination. She also tells us that "the healthy fat, fiber, and protein will help keep your blood sugars in check."
McDonald's Strawberry Banana Smoothie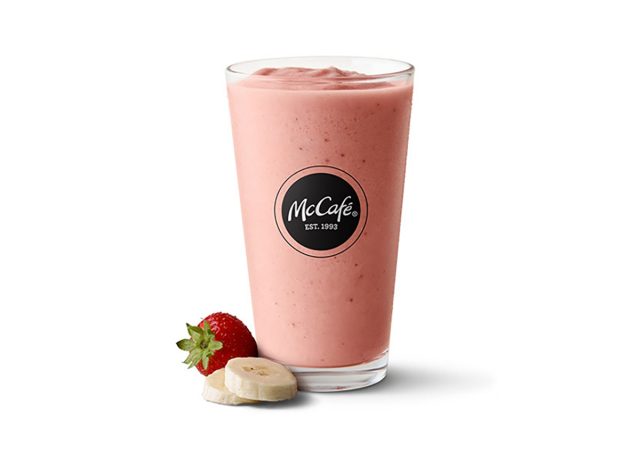 Per small size: 190 calories, 0.5 g fat (0 g saturated fat), 40 mg sodium, 44 g carbs (2 g fiber, 39 g sugar), 2 g protein
The next time you're craving McDonald's, you might want to take a glance at their McCafé menu. That's where you'll find the Strawberry Banana Smoothie which uses purees and juices from the two popular fruit options with ice and low-fat yogurt. That simple combination is not only tasty and refreshing, but it might be just what your body needs in the middle of the day.
Planet Smoothie Amazon Kick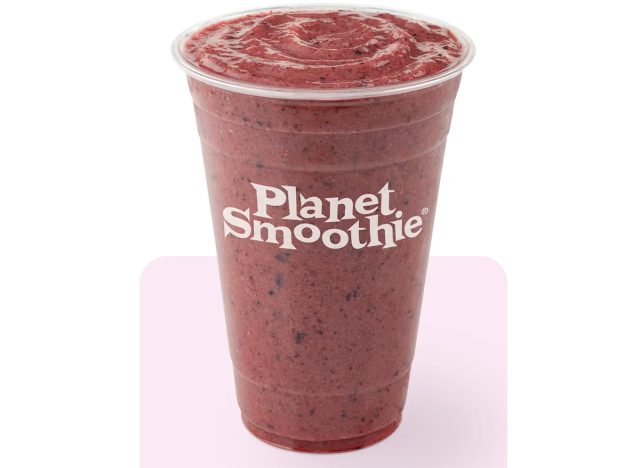 Per small size or 20 oz: 280 calories, 4 g fat (1 g saturated fat), 25 mg sodium, 84 g carbs (8 g fiber, 51 g sugar), 2 g protein
The Amazon Kick from Planet Smoothie not only puts strawberries and bananas to good use, but it also includes blueberries. In fact, studies have connected eating blueberries regularly with benefiting both your brain and weight while also potentially lowering the risk of type 2 diabetes, cardiovascular disease, and even death, according to a review published by Advances in Nutrition.
That's not to mention the addition of açaí to the smoothie, an ingredient that has antioxidant and anti-inflammatory properties, protects the brain, helps the gut, and may help to prevent disease, per data published in the journal Nutrients. Basically, blueberries and açaí are both superfoods which makes this a super-smoothie.
Kindly read more from the website homepage