The 9 Best High-Protein Restaurant Chain Breakfast Orders – Going out to breakfast with friends or family doesn't have to lead to breaking your health goals. Whether you're aiming for meals that are low-calorie, low in sodium, high in fiber, etc., you can usually find delicious and healthy breakfast options at your favorite restaurants that fit into your eating plan. And if it's protein you want to get more of, you can certainly find some great high-protein restaurant breakfasts.
More often than not though, what you cook at home is going to be better for you than what you get at a restaurant—even if you pick healthier choices—because restaurant foods usually use a ton of oils and sneaky ingredients. Because of this, it's important to note that even though we list out some great high-protein breakfast options from popular chains, many of them are on the higher end of things like saturated fat and sodium, so it's important to still consume them in moderation.
The following high-protein breakfasts are from popular restaurant chains like Cracker Barrel, IHOP, and Denny's, many of which are handpicked by registered dietitian Mary Sabat MS, RDN, LD. 
First Watch Healthy Turkey Breakfast
Per serving: 540 calories, 14 g fat (5 g saturated fat), 1,630 mg sodium, 56 g carbs (0 g fiber, 25 g sugar), 48 g protein
When it comes to restaurant omelets, you have to be careful not to underestimate how dense in calories, fat, and sodium these egg breakfasts can be. But if you end up at a First Watch, you'll be able to have a relatively healthy, high-protein breakfast in the form of their Healthy Turkey Omelet.
"The Healthy Turkey Breakfast at First Watch is an excellent high-protein choice because it provides a substantial 48 grams of protein while keeping the calories relatively low at 540 and limiting the fat content to 14 grams," says Sabat. "This balanced combination of lean turkey breast, egg whites, and nutrient-rich vegetables like spinach and tomatoes makes it a satisfying and nutritious option for those looking to prioritize protein intake while keeping their overall calorie and fat intake in check."
Waffle House Sirloin Steak and Eggs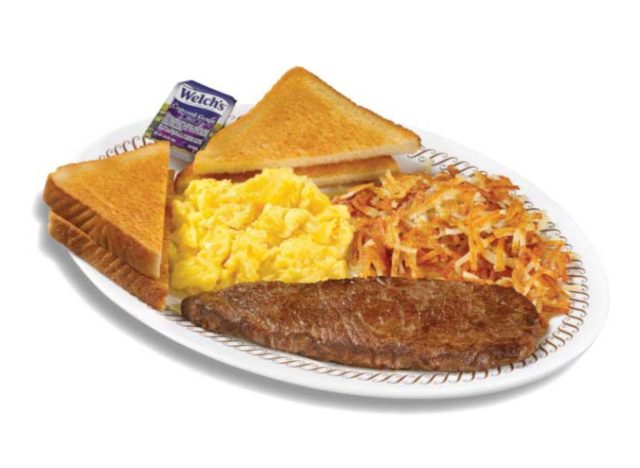 Per serving: 610 calories, 38 g fat (14 g saturated fat), 800 mg sodium, 30 g carbs (2 g fiber, 7 g sugar), 38 g protein
If you opt for the side of tomatoes instead of hashbrowns or biscuits, you can make the Waffle House's Sirloin Steak and Eggs a good choice for a high-protein breakfast. "It provides a substantial amount of protein while keeping the calorie count relatively low, and adding a double side of sliced tomatoes not only enhances the meal's nutritional value with vitamins and fiber but also helps you avoid the extra calories from high-carb items like hash browns or biscuits," says Sabat. "This option offers a great balance of protein and nutrients without compromising on flavor or satisfaction."
Like many restaurant chain meals, this one is fairly high in saturated fat and sodium. If you're watching your intake of either one, be mindful of these levels when you choose the Sirloin Steak and Eggs.
Another Broken Egg Cafe Veggie Delight Omelette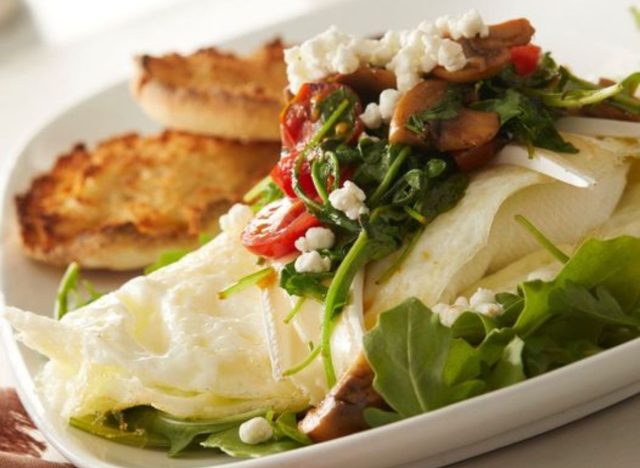 Per serving: 550 calories, 32 g fat (10 g saturated fat), 630 mg sodium, 45 g carbs (6 g fiber, 11 g sugar), 31 g protein
Another Broken Egg Cafe is known for being a bit of a fancier diner experience than what you might expect from a Waffle House or IHOP but with many of the same classic breakfast and brunch foods. You even get to choose from their delicious brunch cocktail menu.
If you're out with friends for weekend brunch and want to focus on meeting your personal protein goals, a good choice for you would be their Veggie Delight Omelette. This omelette is made with goat cheese, spinach, peppers, and mushrooms, and it comes with 31 grams of protein for only 550 calories.
Cracker Barrel Country Boy Breakfast with Sugar Cured Ham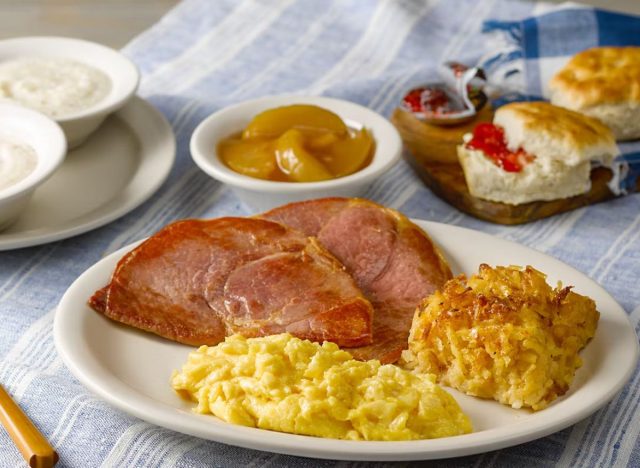 Per serving: 440 calories, 29 g fat (7 g saturated fat), 1,910 mg sodium, 2 g carbs (0 g fiber, 2 g sugar), 36 g protein
Cracker Barrel doesn't have the healthiest breakfast options, but if you're craving their good southern food and a walk through the gift shop, you can customize a few Cracker Barrel options to fit your high-protein needs.
According to Sabat, you can order the Country Boy Breakfast with Sugar Cured Ham for a high-protein, low-calorie meal, and you can substitute fresh fruit as your side item instead of the grits and hashbrown casserole.
Unfortunately, this menu item is very high in sodium, so it isn't something you'll want to consume on a consistent basis. But if you're in a pickle and need to meet your protein needs while you're out to eat with your family, this option from Cracker Barrel can get you there.
IHOP Spicy Poblano Eggs Benedict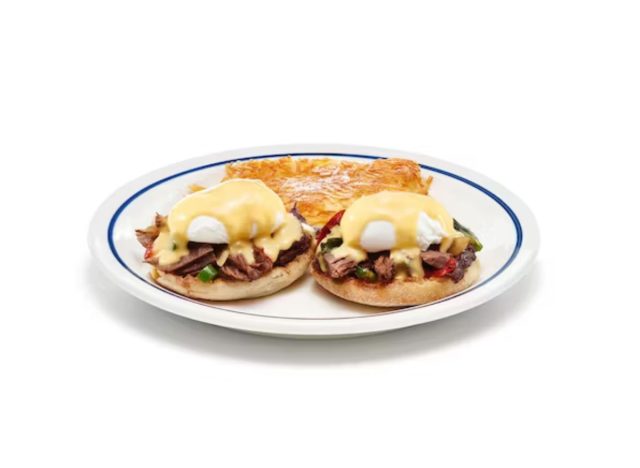 Per serving: 570 calories, 28 g fat (12 g saturated fat), 1,510 mg sodium, 38 g carbs (3 g fiber, 4 g sugar), 39 g protein
The Spicy Poblano Eggs Benedict at IHOP is a flavorful option that is relatively lighter when compared to many of IHOP's other calorie-heavy menu items. And something that you'll get with this eggs benedict that won't get with their famous pancakes is a hefty amount of protein! With 39 grams of protein and only 570 calories, you can work toward reaching your goals and still enjoy a delicious, satisfying breakfast.
Like some of the other options on our list though, this one is high in sodium and those who are trying to eat a low-sodium diet will want to skip this one.
Huddle House 2 Eggs and Sausage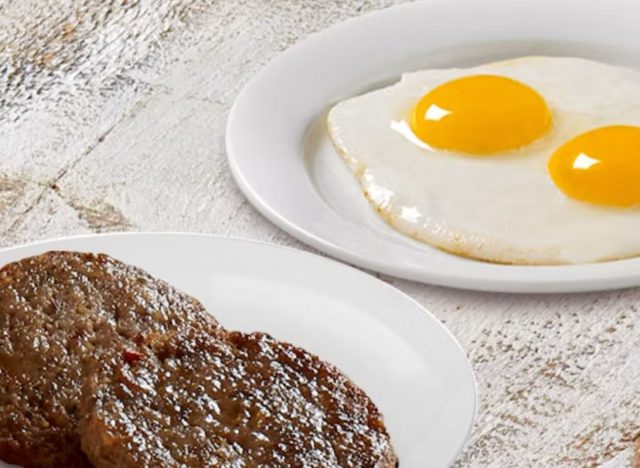 Per serving: 380 calories, 26 g fat (9 g saturated fat), 820 mg sodium, 3 g carbs (0 g fiber, 1 g sugar), 33 g protein
Huddle House is a breakfast chain with its fair share of calorie-dense meals, like their famous Chicken and Waffles with Hot Honey or Stuffed Hash Browns. But if you want something a bit lighter in calories and fat than these options, as well as something that will give you the protein you need, you can order their 2 Eggs and Sausage Breakfast.
You'll get 33 grams of protein for only 380 calories, and even though it still contains some saturated fat and higher levels of sodium, it is the best high-protein option on their menu.
Perkins Everything Omelet
Per serving: 550 calories, 40 g fat (16 g saturated fat), 850 mg sodium, 14 g carbs (2 g fiber, 5 g sugar), 37 g protein
It's in the name—the Everything Omelet from Perkin's has nearly everything, with ham, mushrooms, tomatoes, peppers, onions, and American cheese. And for 550 calories it will serve up 37 grams of protein for you to start your day.
This omelet is served with pancakes, so we recommend switching that out for another side or enjoying the omelet by itself since it's balanced and full of fats, protein, and carbohydrates.
Denny's Steak and Eggs
Per serving: 770 calories, 36 g fat (8 g saturated fat), 1,930 mg sodium, 56 g carbs (1 g fiber, 3 g sugar), 50 g protein
The Steak and Eggs from Denny's is not a great option for those trying to keep their sodium levels down, and because of the sodium levels, it isn't something you'd want to eat daily. But with Denny's limited "healthy" options, choosing the Steak and Eggs to get a boost of protein when you're dining out may be helpful toward your goals.
"This high-protein breakfast choice because it provides 50 grams of protein, making it an excellent option for those seeking to boost their protein intake," says Sabat. "While it does come with higher fat and calorie content, omitting the hash browns and white toast in favor of vegetables or fruit as sides can help make it a more balanced and nutritious meal, allowing you to enjoy a protein-rich breakfast while keeping the overall calorie count in check."
Bob Evans Sirloin Steak with 2 Eggs and Fruit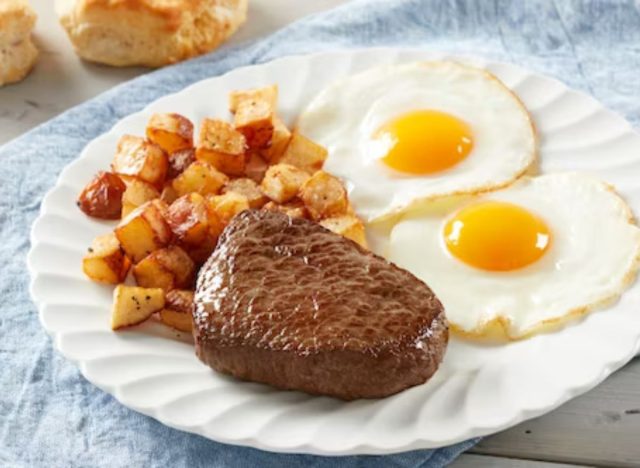 Per serving: 640 calories, 31 g fat (12.5 g saturated fat), 1,115 mg sodium, 26 g carbs (2 g fiber, 19 g sugar), 59 g protein
Bob Evans has a lot of unhealthy breakfast options, so it's hard to find better-for-you options there. But if you find yourself at this breakfast chain on a weekend outing with the family, you can get your protein count up with their Sirloin Steak and Eggs. For a healthier option, choose fruit as your side instead of hash browns.
"This breakfast option at Bob Evans is an ideal choice for a high-protein breakfast because it offers a generous 59 grams of protein while maintaining a relatively low calorie count," says Sabat. "Adding fruit as a side not only balances the nutritional profile but also provides healthy carbohydrates and essential vitamins, making it the best high-protein option at Bob Evans for a well-rounded and satisfying breakfast."
Kindly read more from the website homepage