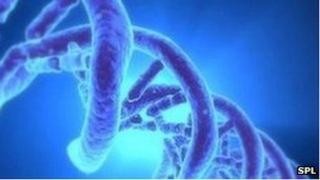 Breakthroughs in understanding how diseases like Alzheimer's and bowel cancer take hold have been highlights of 10 years of a Welsh genetic research "hothouse," says its head.
The Wales Gene Park is marking a decade of academic developments and turning research into treatments for the NHS.
Director Julian Sampson said Wales was recognised for its genetic research.
First Minister Carwyn Jones said the park's work was modernising the health service and improving future health.
The Wales Gene Park has bases at both Cardiff and Swansea universities.
One of the centre's achievements has been the development of a drug treatment for an inherited disorder known as tuberous sclerosis.
This causes multiple tumours to grow on the body's organs and in certain serious cases can be fatal.
"Genetic research in Cardiff identified the gene that causes inherited tuberous sclerosis and we then worked out the functions of these genes," said Prof Sampson.
"On the back of knowing what these genes were meant to do, we identified a drug which should be able to compensate for what the gene didn't do."
The treatment targets brain and kidney tumours but is also being considered for other uses.
"The interesting thing about these patients is they almost invariably get psychological and neurological problems like autism and epilepsy so we're now undertaking a trial to see if it will treat these problems."
'Research strength'
Another success story is research by Professor Julie Williams from Cardiff University's School of Medicine which identified susceptibility genes for Alzheimer's disease.
The findings were called one of the top 10 medical breakthroughs of 2009 by Time magazine.
A lot of the work is undertaken at the cancer and genetics building at the University Hospital of Wales site in Heath Park, Cardiff, and other elements are within the school of biosciences.
Another aspect of the park's work is helping to encourage young people's interest in genetics.
A schools programme is run with Cardiff science centre Techniquest and there are sixth form conferences in the city and Wrexham.
Prof Sampson said: "We've had 20,000 people take part over the years. We really want young people in Wales to be aware of these things and the career opportunities."
He said the park could be likened to a hothouse, adding: "The pace of technological developments is very quick. New opportunities are emerging very quickly. It's one of the areas where Wales is reasonably competitive and recognised."
First Minister Carwyn Jones, who attended the 10th anniversary celebrations on Monday, said: "Genetics is an area of particular research strength in Wales and the Wales Gene Park has played a significant role in this over the last 10 years.
"Cardiff University's close work with the NHS is helping to translate this research into medical practice, modernising our health service and improving the future health of the people of Wales."