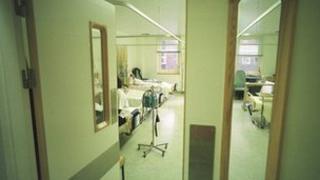 The BBC was given exclusive access to a hospital inspection carried out by the regulators for health and social care in England, the Care Quality Commission (CQC).
It is just after lunch on a busy general ward. It also happens to be handover time between nursing shifts. Everyone looks busy and there is a lot of rushing around.
It is probably sensible then that visitors are not meant to be arriving for another hour or so.
Yet, sitting talking to a patient is a man who does not work here. The visitor is busy making notes, asking questions and listening to an extremely distressing story.
"They were supposed to inject me daily with blood thinner. In my report there are gaps where they never did it and now I've got two blood clots on my lungs."
The patient is called Colin and his voice seems to be quivering at times. He is now telling the visitor what happened when he should have been receiving help with his breathing.
"I was supposed to have been aspirated… hourly. And without that aspiration it meant that I was struggling to breathe. But the nurses knew that – the nurses knew and they left me three and half [to] four hours."
The visitor asks whether Colin called the nurses. He says he did.
"In the end I had to phone home to get my wife and eventually my mum… to come out and intervene and get me aspirated."
Expert by experience
The visitor is part of an inspection team, which turned up at this hospital unexpectedly yesterday morning. His name is Brynley and he is clearly distressed by what he has been told.
"I'm sorry you've got that story to tell sir," he says.
Colin replies: "It's so bad, I'm going private after this. Me and my family will never be on the NHS again, if I can afford it."
Brynley's job is doing just this – sitting, listening and taking notes.
He is what England's hospital regulator, the Care Quality Commission, describes as an "expert by experience".
You can safely say, he knows his way around a hospital. For 25 years, he says he has been what he describes as "a mental health service user" and he has had heart attacks and angioplasty.
He says he gets comments "that maybe an inspector perhaps wouldn't be told".
Having listened to Colin's story, he calls over Steve, one of two actual inspectors. He is a former police officer.
"My particular strength would be problem solving and looking for areas which require further investigation and being very direct in finding answers," he tells me.
In the meantime, the lead inspector has been working along the hospital's senior management corridor.
Vicky is a qualified nurse, with more than 20 years' experience. She is on her way to talk to the Operations Director.
Discharge problems
The inspectors are spending two days at this hospital.
They came here to look at staff supervision and training and what they call governance – or quality control. However, since arriving here, they have become aware of issues about the discharging of patients so they are looking at that now too.
The Operations Director listens while Vicky lists what she has found.
"The shift patterns are completely random and then there isn't any continuity of care," she says.
"That meant the patients don't know the nurses, the nurses don't know the patients and when it comes to key decisions being made they've not got all the knowledge they need."
Vicky talks quickly and the hospital manager has a look of surprise.
"So on a ward round, the consultants are getting frustrated. 'Why is this person still here? They are medically fit for discharge.'"
When she finishes, the Operations Director tells her: "We'll certainly need to look at that again."
Praise for nurses
The inspection team is, of course, finding lots of positive stories too, hearing, for example, how the nurses "… treat you like royalty. They are all wonderful."
It is not all about talking to people. There is a lot of wading through paperwork too.
Back on the ward, the inspector has finished talking to Colin. I ask Steve what he will do now.
"The Care Quality Commission does not deal with individual complaints," he explains.
"What we will do is collate the information. We will look at any intelligence in terms of complaints that are similar or try and find emerging patterns.
"We will maybe concentrate some of our inspections around those areas that have been highlighted and we'll judge that against the compliance at the end."
The hospital's managers told me: "We take the issues raised during this inspection – both by the CQC team and the individual patients – very seriously and are already taking steps to make the necessary improvements."
They also said how much they value the input of the Care Quality Commission.
At the end of their second afternoon at the hospital, the two inspectors retired to an office to discuss their findings with their manager, the expert by experience and also an independent NHS professional who was helping them.
Their official inspection report is expected to be published within the next four weeks.
The BBC is not naming the hospital so we do not pre-empt the findings of the CQC's actual report. We have also agreed only to use the first names of members of the inspection team and patients.
You can hear Jon's full report on the inspection report on BBC Radio 4's PM Programme.